Nokia 770 Internet Tablet
Nokia released the UPnP/AV Control point, Media Streamer, for Nokia 770.
The control point is created based on mUPnP for C with their patches.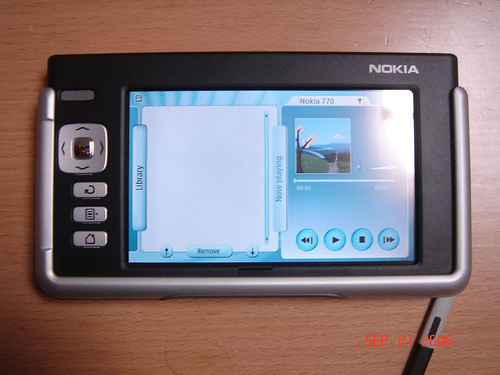 I installed the control point in my home, I searched UPnP/AV media
servers. I could not find Sony's Cocoon today, but I am very surprised
that it is has the very good and simple graphical user interface.
You can install it using your Application manager. Here are the
instructions:
Make sure you have the latest firmware in your 770, i.e. OS2006 edition.
If not, upgrade your 770 SW. You can download it e.g. from http://europe.nokia.com/A4144790. If you prefer linux environment, get the flashing tool from http://www.maemo.org/downloads/releases.html
Make sure your 770 is connected to the Internet
Open Application Manager in your 770 (with OS2006 edition)
Add the maemo application catalogue to your list of catalogues:

menu -> Tools -> Application catalogue
Create new catalogue with following parameters:
URL: http://repository.maemo.org/extras
Distribution: mistral
Components: free non-free

Refresh the package list (Tools -> Refresh package list)
Select "Install new applications" from Application manager main view.
Select category "All" and you should see "mediastreamer" package. Install it and you are ready.